It's only the 7th August and our Quiet Garden is weary. I look around and it stirs up the same feelings as an end-of-season clothes sale, except here there are no crowds .
June , turning to July was glorious – we welcomed back visitors who enjoyed seeing irises and pink geraniums, smelt the burgeoning sage and rosemary, thyme and mint and heard sparrows and blue-tits fluttering around the feeders and leafy branches. We planted up our new boat feature , with fennel billowing like sails. We supported baby tomatoes, allowed the self seeded foxgloves to flower wherever they wanted and everything flourished as in the "bee loud glade." Congregational fellowship after church was re-established and Nathan played with the pebbles in the water-feature. Lydia, researching Roof-top Ecology, was very pleased with her findings.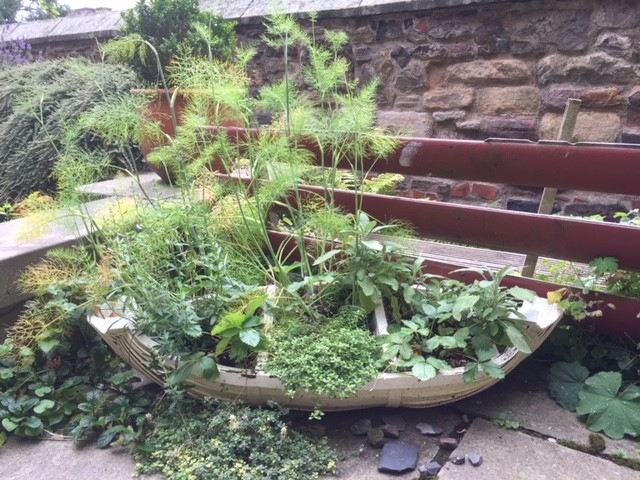 But there was a worm in Paradise as the large Rowan-tree was dangerously worn-out. We couldn't risk large dead branches falling so we had to get the tree-surgeon in to fell it. Georg came and took the logs away and we are feeling the loss.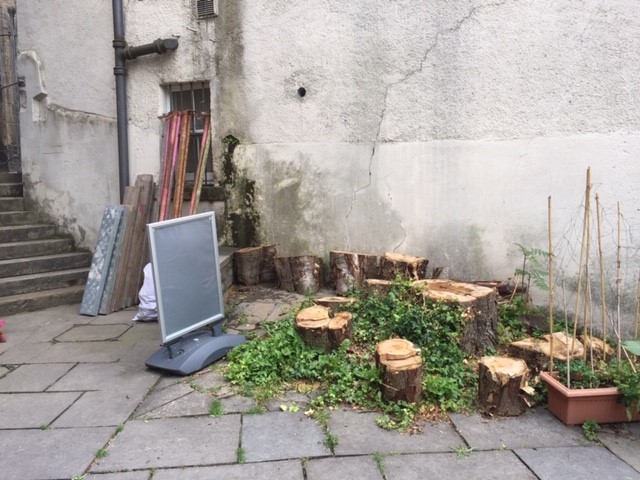 Following water-damage, we then had to organise scaffolding for roof and wall-repair. While the work is happening we can't welcome visitors as there are poles and planks all over the place. And the foxgloves have gone over and the geraniums are wearing thin and the yellow alchemilla is turning brown. Most dramatically the Solomon's Seal is completely stripped of its leaves, the victim of sawfly I believe.
Well a garden is where we can learn about what John Keats called Mutability – that life is always changing, sometimes on the wax and sometimes on the wane.
Trying to come to terms with this universal truth, I look around for signs of energy…. Reassuringly I find :
a few poppies and rudbeckia very late and still to flower
some potatoes to dig
bees still busy around the catmint and lavender
the new hyssop planted in the boat about to bloom
the tree-stump area asking for a big, new idea!
Fortunately we now have the church itself open every afternoon of August so we can still offer a place of beauty to take some time out in. Seemingly, we live in an economy of God's Provision, only requiring our willingness to go along with it.
Jenny P-W
Volunteer gardener and Lay-reader